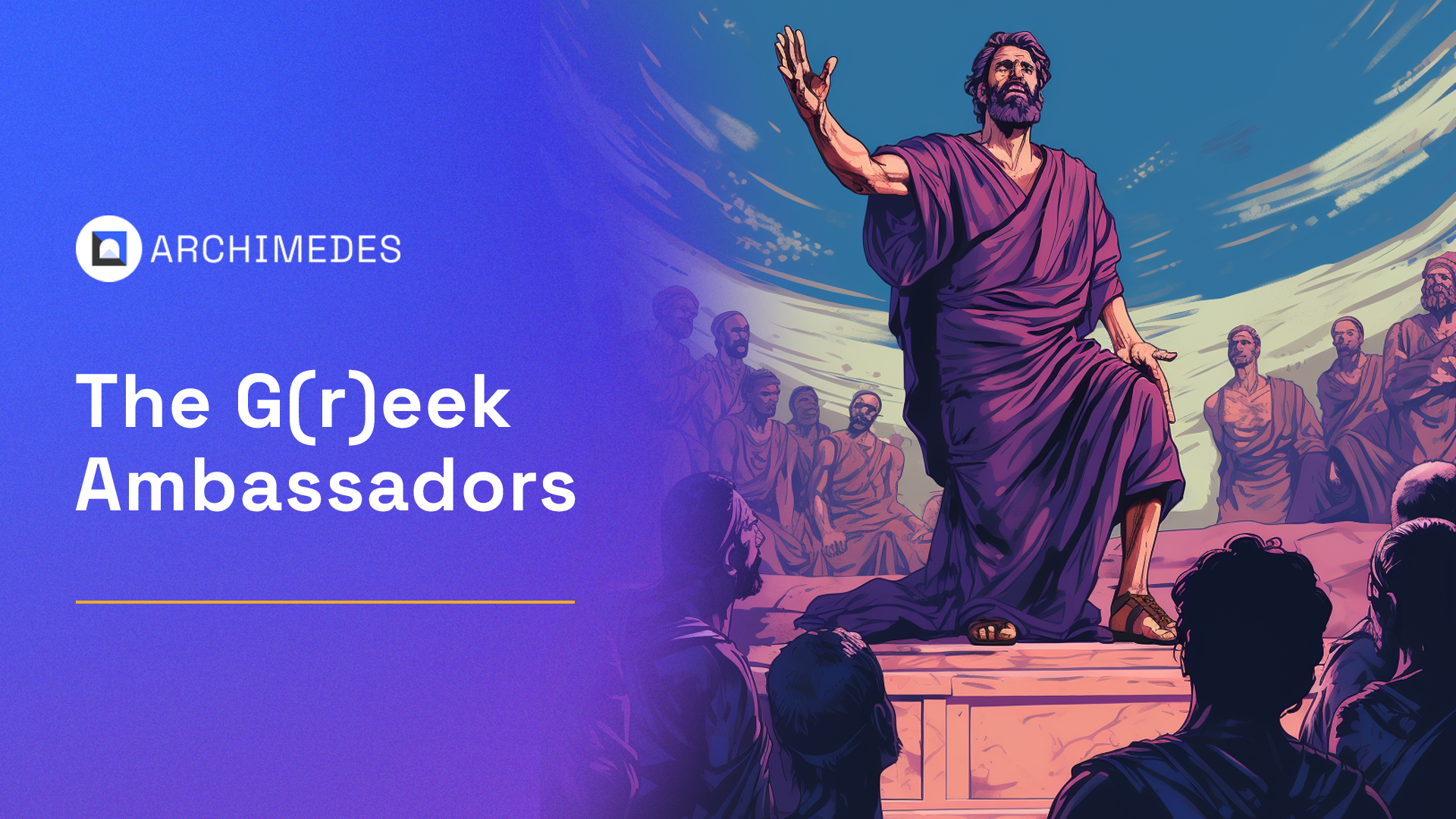 Overview
An Ambassador's role is to promote and represent the project to the wider public.
While you can help the DAO grow as a project, you are really aligned with our values and committed to our success.
You have a vibrant community and connections, are a great storyteller, are passionate about what Archimedes is building, and think you can help us do better?
Responsibilities & Expectations
Community Engagement: You will frequently engage with our users and community members in our Twitter account as well as on your choice of Discord or Telegram: in average, 1-3 different days per week with a few messages every time is a healthy level of engagement and expected.
Content Creation and Marketing: You will help Archimedes' marketing with Brand Awareness, Social Proof, and Social Growth. You will post Twitter (X) threads in average once or twice per month, you will Tweet about Archimedes in average 2 times per week, and you will produce a third additional type of content of your choice: long form, video. You will also help the team schedule 1 AMA per month: suggesting and connecting to potential guests, participating as a guest.
Product Feedback: You will help the Archimedes team prioritize its product roadmap by providing insights into new market narratives, providing feedback about the product, and pointing to user painpoints (with our product or in DeFi in general) that can be relevant for the Archimedes product.
Partnership Support: You will help the Archimedes DAO with BD work. The connections you have built and build may help us achieve great partnership opportunities. This is opportunistic and the BD and product teams should provide context to empower you to help them.
Incentives
The incentives need to be aligned:
We count on you to help us grow
You're involved with the project and has skin in the game
The exact compensation will be negotiated on a case by case basis, but most likely will be defined by:
Size of audience
Demonstrated successful Ambassadorship or impact contributing to Archimedes or other projects
The type of compensation:
In ARCH tokens, volume defined upfront for 6 months timeline

Every 6 months we revise your compensation
You will receive vesting on a monthly basis

You are not allowed to sell your tokens until after 90 days from payment
You will also access early information and access, e.g., Airdrops?! 🤔
How to apply
Please submit your application in this
form
.
If your application is not accepted at this time, you can try it later after 3 months or you can first participate in the
G(r)eek Creators Initiative
, which is a second way to earn while creating but also apply to the G(r)eek Ambassadors.